Curriculum Intent
Spanish
"A different language is a different vision on life."

— Federico Fellini, Italian film director
Purpose
In MFL, by placing a focus on developing fluency we aim to build students' self-efficacy, so that over time they may develop intrinsic motivation and a joy for language learning. In lessons we will teach students challenging and ambitious vocabulary and structures allowing learners to become articulate communicators. We provide students with a safe, interactive and engaging learning environment in which mistakes are celebrated, and students are encouraged to become self-reflective and take ownership of their own learning. We will also use authentic target language texts, such as films, articles and literature to expose students to real life use of the target language and thereby expand their cultural awareness.
Curriculum features
The department is led by an innovative teacher and is committed to fostering and stimulating students' interest and enjoyment in learning through interactive and engaging lessons. Collaboration with other schools within our Trust allows our department to regularly share good practice and be updated with innovative teaching ideas and examination requirements. Whilst delivering the curriculum, teachers endeavour to establish a learning environment in which students are encouraged to take risks, build confidence and resilience to failure, as well as to use the target language spontaneously and out of the classroom context.
In KS3, highly sequenced courses aim to teach students a range of vocabulary and grammatical knowledge that will allow them to acquire solid foundations for communicating effectively in the target language. In KS4, all lessons are thoughtfully designed to cover new vocabulary as well as consolidating prior learning and to practise the key skills and grammar which will enable students, from all abilities, to further develop the language skills and knowledge they have acquired at KS3.
Over the five years of their secondary education, students will cover the following five themes:
Identity and Culture
Local area, Holiday and Travel
School
Future aspiration, Study and Work
International and Global dimension
Enrichment
The main purpose of independent study tasks in MFL is to consolidate and extend students' learning and support will be available when requested. The department endeavours to offer extra-curricular activities to enhance students' linguistic and cultural knowledge and is looking forwards to organising educational trips abroad to make students' learning "come alive".
Curriculum Journey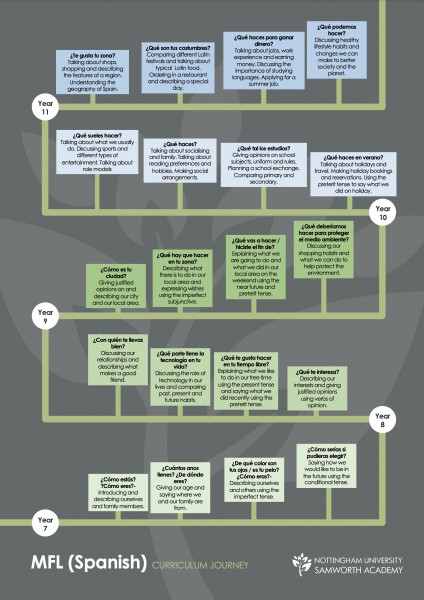 December 2023
| M | T | W | T | F | WE |
| --- | --- | --- | --- | --- | --- |
| | | | | 1 | 2 |
| 4 | 5 | 6 | 7 | 8 | 9 |
| 11 | 12 | 13 | 14 | 15 | 16 |
| 18 | 19 | 20 | 21 | 22 | 23 |
| 25 | 26 | 27 | 28 | 29 | 30 |