Curriculum Intent
Design & Technology
"Design and Technology is about making things that people want and that work well. Creating things is hugely exciting: it is an inventive, fun activity."

— James Dyson
Purpose
Design and Technology is an inspiring, rigorous and practical subject. We provide our students with a curriculum that focuses on solving real world problems and the design and creation of high-quality products.
All students will develop the creative, technical and practical expertise needed to demonstrate a repertoire of skills confidently, in order to:
Build and apply core knowledge
Develop imaginative, creative and technical skills
Promote curiosity and encourage practical problem solving
Develop skills in to design and make high-quality products for a wide range of users
Critique, evaluate and test ideas and products
Work collaboratively with others
Realise the impact of design activities on the environment
Recognise and use new technologies whenever possible
Work safely, demonstrating an understanding of health and safety principles
Draw upon disciplines such as mathematics, literacy, science, computing and art
Practically apply the principles of nutrition
In Design and Technology, students will be confident to tackle challenging concepts, thinking innovatively and develop creative understanding. They will hold high academic expectations, enabling them to understand how Design and Technology impacts every aspect of our lives, making informed decisions about further learning opportunities and exciting career pathways, such as:
Graphic design
Engineering
Construction
Hospitality management
Curriculum features
At Key Stage 3 we will fulfil the requirements of the National Curriculum for Design and Technology, by providing a broad and balanced curriculum. Students will progress in their knowledge and skills, to learn how to take risks, become resourceful and innovative, understanding the impact of rapidly changing technology within the world.
At Key Stage 4 students can choose to continue their studies of the subject by specialising in either Engineering or Food. The Cambridge National qualification in Engineering provides an engaging, robust and broad-based introduction to engineering. Students will gain knowledge, understanding, and practical skills through a range of engineering activities. This also provides them a firm grounding enabling them to pursue opportunities at post 16 or a career in the engineering industry. Students will either study GCSE AQA Food Preparation and Nutrition or WJEC level 1/2 Certificate in Hospitality and Catering. Equipping them theoretical knowledge, these courses allow many opportunities for students to develop practical and technical food preparation skills.
Enrichment
Students are encouraged to attend after school sessions to either further improve their current class work or work on new projects. Students are taken to the local University to look at degree level work with a view they may eventually go on to study Product Design or Engineering at University.
Curriculum Journey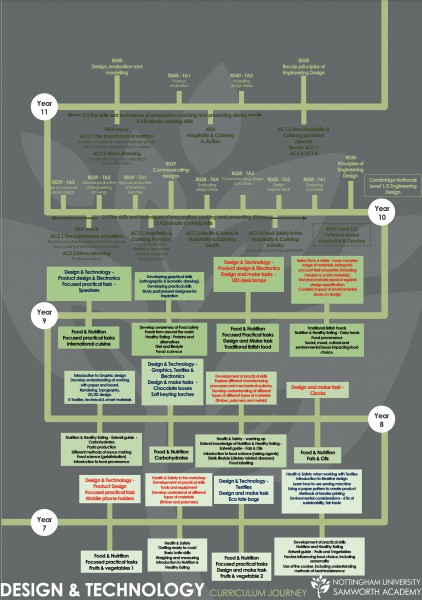 December 2023
| M | T | W | T | F | WE |
| --- | --- | --- | --- | --- | --- |
| | | | | 1 | 2 |
| 4 | 5 | 6 | 7 | 8 | 9 |
| 11 | 12 | 13 | 14 | 15 | 16 |
| 18 | 19 | 20 | 21 | 22 | 23 |
| 25 | 26 | 27 | 28 | 29 | 30 |