Curriculum Intent
Enterprise
"Entrepreneurship is living a few years of your life like most people won't, so that you can spend the rest of your life like most people can't."

— Anon
Purpose
The world we live in is constantly changing and evolving. It is more important than ever that pupils leave school equipped with the skills required to contribute to society. Our curriculum is designed to create the entrepreneurs of the future, providing them with the skills and the knowledge to compete in the digital and business worlds.
At NUSA, our enterprise curriculum offers a broad range of curriculum content, covering IT, Computing, Business, and careers. We deliver the KS3 computing national curriculum which enhances pupils computational thinking and creativity. This is delivered alongside essential knowledge of the business world and the skills needed to be an entrepreneur. Enterprise skills are key to the growth of the UK economy and are transferable into many careers. Our careers education focuses on developing pupils' transferable skills and knowledge of the different pathways and opportunities available to them.
We believe our curriculum ensures that pupils become digitally literate and enterprising individuals; essential skills for workplaces of the future and the ever-changing digital world.
Curriculum features
Enterprise is a dynamic subject covering content from business, computer science and IT; equipping students with the ability to influence this modern world; encouraging students to investigate, be inquisitive and think logically.
Business Entrepreneurship – Students gain insight into the fundamentals of business, creating and modelling their own business ideas to industry standards, utilising key themes from Business, ICT and computer science.
Financial Education – Financial education looking at all aspects of business finance, which is applied to creating detailed business plans, preparing them for the rigors of entrepreneurship.
Industry relevant IT and computing skills – The use and manipulation of technology is vital in this modern world, we equip students with the ability to not only understand but manipulate computers for their desired result. Using tools like python and small basic students can grasp the fundamentals of how computers operate. Presentations and professional communication are the cornerstone of Enterprise. Students are taught how to use Microsoft Office, cloud-based storage systems, and professional email etiquette.
Changing world – Computing and IT also ensures that pupils become digitally literate – able to use, and express themselves and develop their ideas through, information and communication technology – at a level suitable for the future workplace and as active participants in a digital world.
Presentation skills – You cannot get more relevant skills for future success than the presentation elements featured in the enterprise curriculum. Students are taught the art of a successful presentation and are required to deliver a professional business pitch.
Creativity and design – Allowing students to flex their creative muscles in computing is also vital; students will develop websites and create digital media products with Adobe Photoshop and Vectr to meet a client brief; preparing students to enter one of the fastest growing sectors in the world.
Growth and opportunities – Exploring wider reading opportunities across the curriculum to develop a deeper connection with the real-life business implementation of the curriculum to support a future career in the fields of Business, Computer Science and IT.
Enrichment
A qualification in Enterprise will open doors to interviews and opportunities in every employment sector. Enterprise is an outstanding addition to any student's curriculum vitae and in many cases the course can be a life changing experience.
In order to achieve the very best possible outcomes, Enterprise is committed to providing students with extra-curricular support after school, specifically tailored resources and teaching from practitioners with experience and qualifications in business and enterprise. As part of GCSE computer Science, students complete the iDEA award, which is an international award-winning programme that helps students develop and demonstrate their digital, enterprise and employability skills.
Year 7 and 8 also have a chance to take part in our STEM coding club afterschool where they learn to program remote-control cars using Microbits. This is an exciting opportunity for our students to put their Enterprise knowledge to use and make links between software and physical hardware.
Curriculum Journey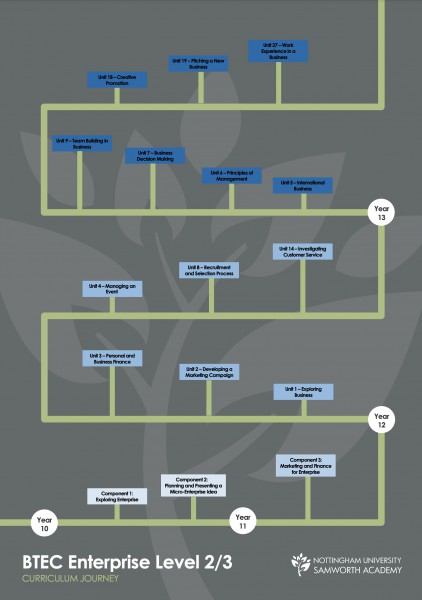 December 2023
| M | T | W | T | F | WE |
| --- | --- | --- | --- | --- | --- |
| | | | | 1 | 2 |
| 4 | 5 | 6 | 7 | 8 | 9 |
| 11 | 12 | 13 | 14 | 15 | 16 |
| 18 | 19 | 20 | 21 | 22 | 23 |
| 25 | 26 | 27 | 28 | 29 | 30 |