Curriculum Intent
English
"Our conversation is our culture."
Purpose
At NUSA, our main focus within English is to inspire our students to succeed. The school's ethos of 'Work Hard, Be Kind' is central to our values of ensuring that students leave us as well rounded and valued members of society who have a secure belief in their own ability to succeed and thrive. Rather than creating an explicit 5 year GCSE course, we focus on core skills throughout to create a solid foundation for learners to succeed. Within this framework, we aim to promote the value and recognition of individuality and creativity.
Our curriculum will ensure that students:
understand the historical and moral implications of texts,
have an understanding of writer's intent and the influences and challenges of writers throughout the ages,
engage with texts and can make predictions about fiction and non-fiction texts,
understand the importance of 'timeless' themes through texts, such as class divide, gender boundaries and racial inequality, as well as embracing their own significance within these contextual themes,
gain an appreciation and love of reading both fiction and non-fiction texts for pleasure,
become aware of their own oral literacy and how this can be adapted for different real-world scenarios beyond the classroom,
understand the monumental power of both the written and spoken word.
Curriculum features
Key Stage 3
The design of our Key Stage 3 curriculum serves as a map for our students; covering fundamental skills and knowledge to create a positive platform for success in Key Stage 4. Units focus on connecting key themes and concepts from literary texts and making links tangible and meaningful for students. During Key Stage 3, students will build their understanding of the world through literature, immersing themselves in a rich literary history and variety of cultures.
Key Stage 4
With the exams as fundamental lynchpin, Key Stage 4 continues the work of Key Stage 3 in bringing texts to life and giving them meaning, so that students can authentically experience literature. Our Language and Literature teaching interleave to support each other so that students can adapt their embedded critical analysis skills and further develop their own perceptive and analytical voices.
Enrichment
Students are offered a range of opportunities to develop their understanding of texts beyond what is written on the page and will compliment their experience in the classroom. These will include:
'Poetry Live' conference, where students are able to hear and speak to poets studied in the GCSE curriculum
Theatre trips and visits from theatre companies to immerse students in experiencing texts first hand and bringing stories to life
Visits to the Lakeside Theatre to see local talent, including a lecture from a director in industry
A school-wide Pens Down Day to encourage spoken language skills and oracy
Providing workshops with external staff to enhance speaking and listening skills which accompany the GCSE curriculum
Trips out the University for careers workshops
Close links with the media and drama departments which showcase the flexibility and adaptability of the work in English
Curriculum Journey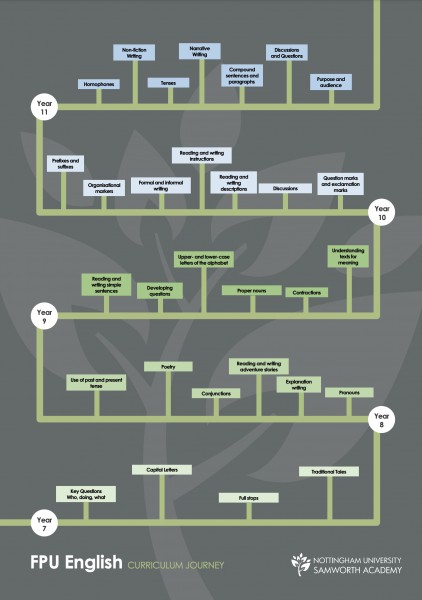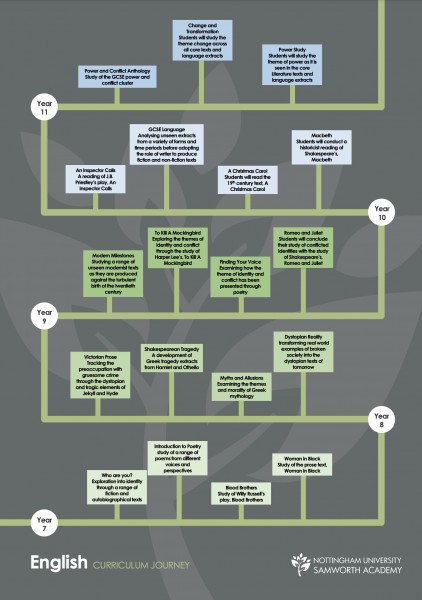 December 2023
| M | T | W | T | F | WE |
| --- | --- | --- | --- | --- | --- |
| | | | | 1 | 2 |
| 4 | 5 | 6 | 7 | 8 | 9 |
| 11 | 12 | 13 | 14 | 15 | 16 |
| 18 | 19 | 20 | 21 | 22 | 23 |
| 25 | 26 | 27 | 28 | 29 | 30 |