Curriculum Intent
PSHE
"The final forming of a person's character lies in their own hands."

— Anne Frank
Purpose
At NUSA, our main goal of PSHE education is the equip all pupils with the 'toolkit for life'. This toolkit encompasses the knowledge and skills they need to make informed choices about their health and relationships, which will enable them to live safe, happy, healthy lives both now and in their future.
We aim to empower pupils with confidences and the resources and resilience required to take responsibility for their own physical, mental, social, and financial wellbeing, along with the ability to recognise when support may be necessary and know how to access it.
Pupils are encouraged regularly to reflect on the world around them and consider a wide range of current issues and scenarios to help them shape their own opinions and decisions. They will be expected to express their opinions respectfully, participating in regular discussions with their peers.
We will ensure that lesson environments are safe and encouraging so that everyone feels able to participate. Pupils will be engaged with content that is relevant to the real world and to themselves. We aspire for our pupils to be open-minded, inquisitive learners, who celebrate diversity and make positive contributions to society.
Curriculum features
There is a wide breadth of provision within the curriculum to ensure all pupils are able to reach their full potential, both academically and beyond. All year groups will have a 50-minute lesson weekly. These sessions are complimented with several focussed drop-down days which are designed to enrich pupils' experiences beyond the classroom. This includes a careers day in Year 11 where pupils is interviewed by external professionals from a variety of industries. Additionally, Year 9 pupils participate in a 'Prison! Me? No Way!' day. Pupils get to explore potential consequences of decision around gang involvement and drug crime, as well as the realities of prison life.
Key themes covered:
Physical health and mental wellbeing
Relationships
Living in the wider world
Pupils will explore and consider a wide range of relevant, engaging and age-appropriate topics under each of these headings, including all aspects of the statutory content. Pupils are actively encouraged to discuss and debate issues, developing their communication skills along with the confidence to express their opinions and beliefs on important issues. Examples of these include features of a healthy lifestyle for both physical and mental wellbeing; characteristics of positive and negative relationships; intimate relationships and consent; stereotypes and discrimination; pregnancy, contraception and STIs; and online safety in different contexts.
We work closely with external providers to ensure pupils receive the most relevant and engaging sessions regarding issues covered. These include The No Way Trust who run the crime awareness day mentioned above, as well as the Pintsize Theatre group who run interactive drama workshops on topics such as online relationships and grooming, consequences of teenage pregnancy and the influence of alcohol on risk taking behaviour. This also gives pupils the chance to communicate with a range of people from different backgrounds, whose own experiences can also be of great benefit.
This curriculum is designed to meet the fundamental objective of PSHE, which is the fully prepare pupils to deal with and manage issues relating to their own health, relationships and welling, as well as being a valuable member of our society.
Enrichment
Throughout Years 7–11, PSHE offers pupils the opportunity to participate in fundraising activities, encouraging them to show empathy towards others. As a school, we support national initiatives such as Comic Relief, Children in Need and Remembrance Day, along with more local, personal charities and food banks. In recent years, we have participated in Young Minds Hello Yellow campaign, which raises money to support young people's mental health.
Careers and ambitions are interwoven in the PSHE curriculum and enrichment throughout a child's journey at NUSA. In Key Stage 3, pupils are given support when considering their option subjects that they want to choose for further study at Key Stage 4, with a view of linking these careers prospects and aspirations.
At Key Stage 4, there is an even greater focus on careers and work experiences, with an abundance of support in place for pupils. All pupils are given the opportunity to create a CV and a personal statement that they can use to gain work experience, post-16 and further education applications. Year 10 pupils complete a one-week work experience placement, providing an extremely beneficial insight into potential career paths. These placements are undertaken in a wide variety of workplaces. Previous examples of work experience include The Co-op, Halfords, Barton Buses, KAM servicing and many local nurseries and primary schools. The Year 11 careers day compliments this with invaluable experience of what the interview process entails.
Curriculum Journey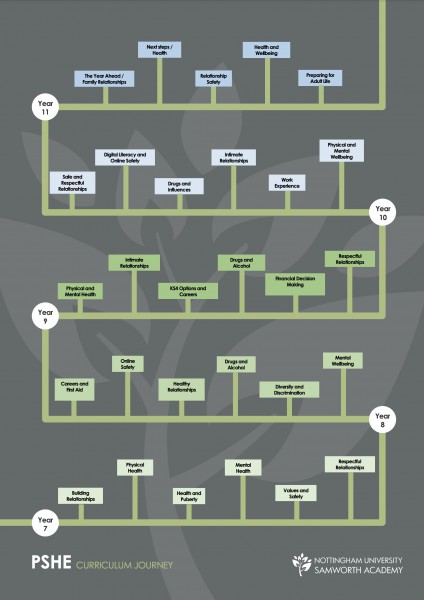 Related Downloads
December 2023
| M | T | W | T | F | WE |
| --- | --- | --- | --- | --- | --- |
| | | | | 1 | 2 |
| 4 | 5 | 6 | 7 | 8 | 9 |
| 11 | 12 | 13 | 14 | 15 | 16 |
| 18 | 19 | 20 | 21 | 22 | 23 |
| 25 | 26 | 27 | 28 | 29 | 30 |
PSHE News
Citizenship Day
14/01/15 - Citizenship Day workshops for Years 8 & 9 (13/01/2015)