Independent Study Tasks
Independent Study Tasks
At NUSA we currently set independent learning tasks in all subjects (ISTs). Our expectation is that these tasks are to be completed at home and are in addition to any other learning tasks that are set in lessons.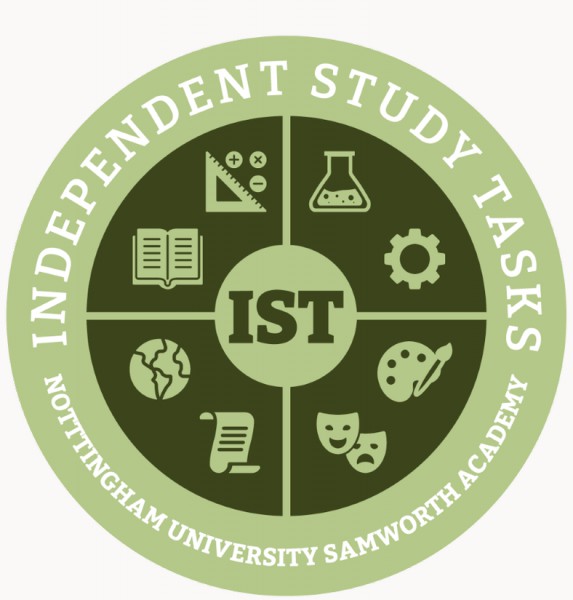 Timetable for year 7 & 8.
Students are set English, Maths and Science ISTs every week. Their remaining subjects are then set on a 3 weekly rotation. Students are given a week to complete their independent study task and will submit their work a week after it was set. See the KS3 timetable below: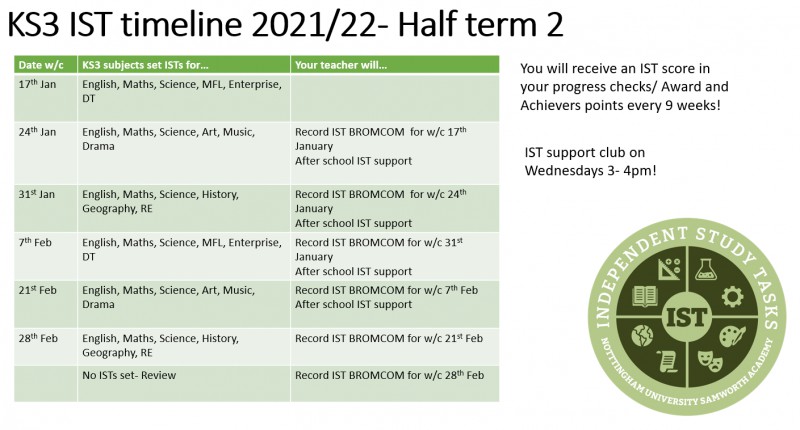 Blended learning
We have adopted a blended learning approach to setting and receiving IST tasks. All students have a Microsoft TEAMS account. Some of their homework will be set on TEAMS, however some subjects use specific on line platforms to set IST tasks. This is indicated below:

Failure to hand in their IST
If a student fails to complete or hand in their IST during the allocated time they will receive negative BROMCOM points, a phone call home or an after school detention dependent on how many times they fail to hand in or submit their work. See the flow chart below which explains the routine for students that do not complete their ISTs.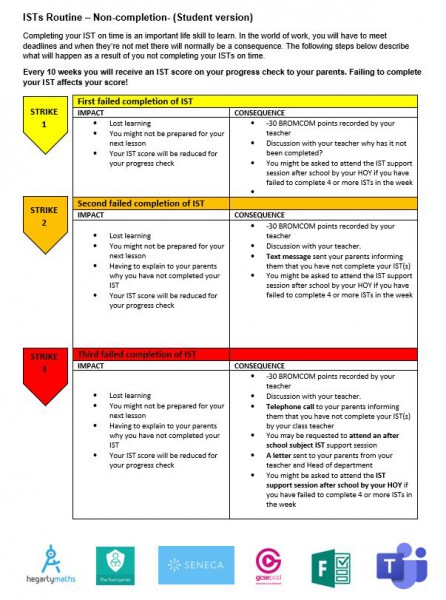 How will IST's be marked?
IST's will be given an effort mark of 1 to 4 by their subject teacher.
Excellent effort. Work has been completed to a high standard in terms of presentation and demonstrates a good understanding of the work set. All correct
Good effort. Work has been completed to a good standard but may show some errors. The student has demonstrated that they have completed it to the best of their ability.
Below standard. The task has not been completed to a good standard, little effort has been demonstrated and the presentation is poor
The IST was not completed or handed in when issued to the student by the teacher.
The flow charts below describe how ISTs are set and recorded. They also illustrate our routine for students that fail to complete any tasks set: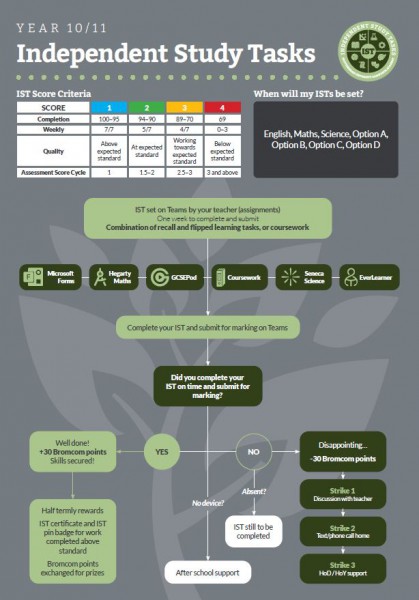 What if the student is absent on the day the IST is issued?
If students are absent due to a medical, or other agreed reason, they will receive an absent mark for that week and will not be expected to attend any detentions. However, it is expected that the student makes every effort to ask the teacher for the IST when they have returned. They can also still access the IST task if it has been set on an online platform such as, TEAMS, SENECA or Hegarty Maths
How long should a student spend working on their IST?
The work should take no longer than 30 minutes for years 7-9, however IST's in years 10 & 11 may take longer.
Timetable for key stage 4 - Years 9-11
At key stage 4 all subjects will set IST tasks every week. Students will have a week to complete their work from when it was set.

Support with completing Independent Study Tasks
If a student is finding it difficult to complete any IST(s) they can attend the IST support club. Here they will have access to a computer and have a member of staff on hand to help them if they have any questions. These support sessions are outlined below:
KS4 (Years 9 -11) Monday 3.10 - 4
KS3 (Years 7-8) Thursday 3.10- 4
What do I do if I have any questions or queries regarding their IST task?
If you have a query regarding any aspect of the ISTs you have several contacts:
Heads of year
Year 7- Mr Fleming
Year 8 – Mr Kirkby
Year 9- Miss Hemm
Year 10- Miss Mahli
Year 11- Miss Strawson
Head of departments
English - Miss Weld
Maths - Mr Whitfield
Science - Mrs Bingley
Modern Foreign Languages - Mr Figini
Humanites (Geography, History) - Mr Dupey
Social Sciences - Mr Dupey
Design Technology / Catering - Mrs Smeeth
Art/ Music/ Drama - Miss Arnold
PE- Mr Cooke
Enterprise - Miss Carter
Please call the school directly and leave your message or query with reception.
Related Downloads
July 2022
| M | T | W | T | F | WE |
| --- | --- | --- | --- | --- | --- |
| | | | | 1 | 2 |
| 4 | 5 | 6 | 7 | 8 | 9 |
| 11 | 12 | 13 | 14 | 15 | 16 |
| 18 | 19 | 20 | 21 | 22 | 23 |
| 25 | 26 | 27 | 28 | 29 | 30 |