Curriculum Intent
Science
"Every action has an equal and opposite reaction."

— Sir Isaac Newton
Purpose
Science provides an opportunity to discover and study the physical and natural world through observations and experimentation. From the wonders of the Universe to the structure of the atom, students will develop an understanding of how discovery has led to the knowledge of today and how they can progress the knowledge of tomorrow.
We will build scientists that have excellent skills in: problem-solving, inferring, measuring, communicating, team work, hypothesising, working practically and processing data. These will enhance the learner's perseverance, resilience and determination.
Science is all about inquiry and having an inquisitive mind – if you always question 'why?' then Science will provide the answers.
Curriculum features
During KS3, students will focus on developing practical skills and how to design a successful investigation through completing the CREST award and investigative units such as forensic science. They will then analyse the data collected from their experiments to form conclusions, allowing them to evaluate the process and develop next steps.
The transition from KS3 to KS4 will enable the students to deepen their understanding of the fundamental concepts and then explore further topics in detail, continuing the emphasis on practical work as they begin to complete their 'Required Practicals'.
Enrichment
Science has cross-curricula links to most subjects: mathematical problem solving; links to Geography through ecology topic; descriptive language to help with the analysis and explanation of graphs; design of practical investigations; use of ICT equipment to collect, record and analyse data.
Due to the cross-curricula nature of Science, it feeds into many career pathways and opportunities. From medicine, physiotherapy, midwifery, to astrophysics, animal conservation, engineering, sport science, zoo keeping or even a crime scene investigator.
We aim to provide a number of occasions for enrichment, including:
The Zoo
Stardome
Big Bang Science Fair
Operating Theatre Live
Curriculum Journey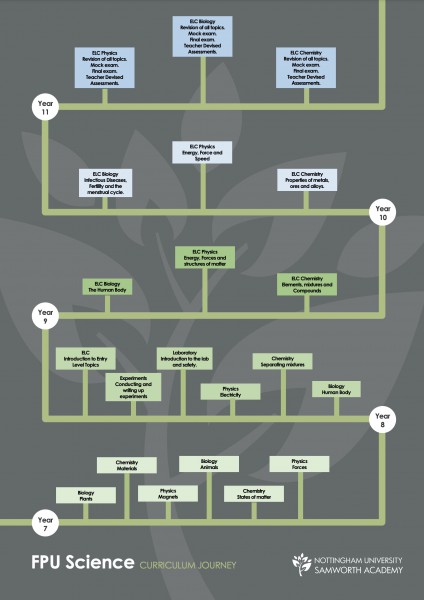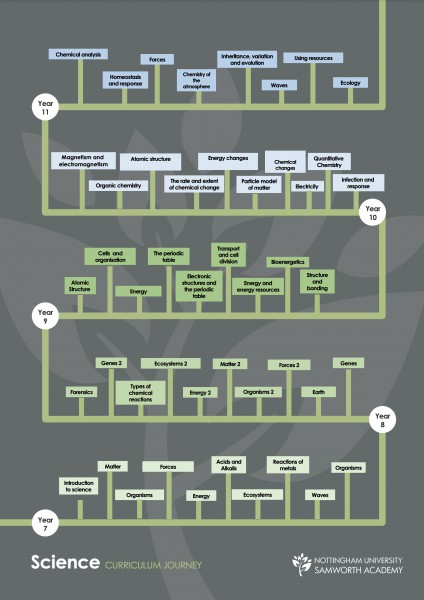 December 2023
| M | T | W | T | F | WE |
| --- | --- | --- | --- | --- | --- |
| | | | | 1 | 2 |
| 4 | 5 | 6 | 7 | 8 | 9 |
| 11 | 12 | 13 | 14 | 15 | 16 |
| 18 | 19 | 20 | 21 | 22 | 23 |
| 25 | 26 | 27 | 28 | 29 | 30 |