Transition
Transition
September 2018 - Arrangements or the Start of the new Academic year.
Year 7's will start NUSA on Monday 3rd September 2018. They can arrive at 8.00am but no later than 8.40am and will finish at 3.20pm. For more information please click here
YEAr 6 transition days - Wednesday 4th July and Thursday 5th July 2018
Year 6 students will spend two days at NUSA taking part in a range of fun and exciting activities designed to help them get to know NUSA. We ask that they arrive at school at 8.30am each morning and students may leave at 3pm.
Between 3pm and 4.30pm on both days uniform will be available for your child to try on and orders may be placed.
year 6 'Meet the Tutor' - Thursday 12th july 2018 at 6.30pm
This is an opportunity for you and your child to meet with their tutor, Head of Year and Assistant Head of Year.
Uniform will also be available to try on during the evening and orders may also be placed.
YEAr 6 Tours around school
Tours of the school will be taking place on Tuesday 3rd, Thursday 5th and Friday 13th October, commencing at 9.15am for approximately 1 hour. Please call reception on 0115 9291492 to book a place on your preferred day.
Year 6 Open Evening 21st September between 6pm and 8pm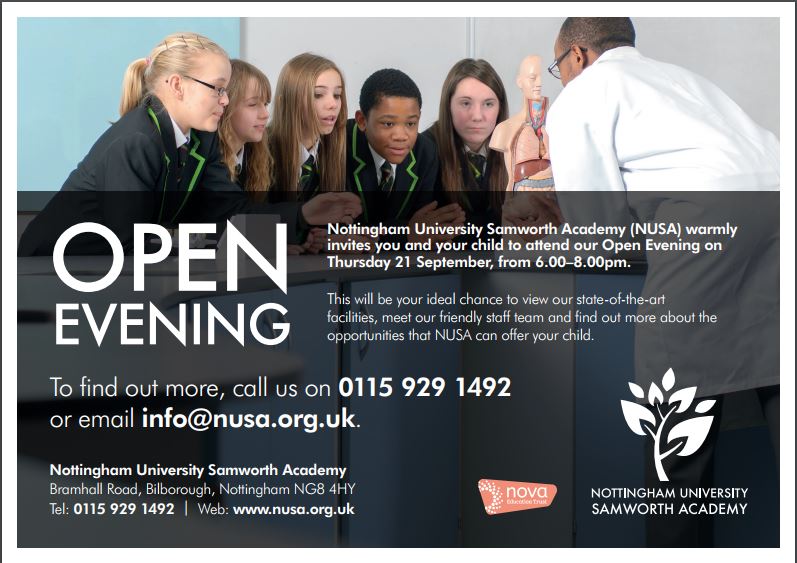 Year 6 Transition days 2017
The Year 6 Transition days for all Primary Schools will take place here at NUSA on Wednesday 5th July and Thursday 6th July. Students need to arrive at NUSA in their primary school uniform between 8.30 and 9.00am.
The day will begin at 9am and finish at 3pm - Lunch for all pupils will be provided free of charge on both days.
On Thursday 13th July you will have your first opportunity to meet your child's tutor. The evening will start at 6.30pm and staff will be available until 7.30pm.
Year 6 School uniform:
At the end of the transition days on 5th and 6th July there will be an opportunity for pupils to try on samples of our school uniform and for parents to place an order. There will be a uniform allowance of up to £70 for Year 7 pupils who meet the criteria for free school meals, either now or at any time during primary school.
Year 6 Transition Tour Days
Come and visit us to find out more about our academy which this summer secured GCSE examination results for our Y11 pupils of English A*-C 72% and Maths A*-C 54%.
5th October 2016 – 9am or 5pm
12th October 2016 – 9am or 5pm
19th October 2016 – 9am or 5pm
Closing date for secondary applications in Nottingham City is the 31 October 2016. Applying after this date will reduce your chances of getting a place as we were oversubscribed this September!
Meet the tutor presentation
Click here to view the Meet The Tutor Presentation
For more information about the admissions process, please see the Admissions page.
ALLOCATION of 2016-2017 Year 7 Places - March 2016
We are anticipating a huge demand on places in Year 7 for academic year 2016-2017 and we cannot wait to welcome and work with our new students and parents, ensuring the best possible start to secondary education at NUSA. Parents and carers who have applied for a secondary place and met the 31st October 2015 application deadline, will receive details of the school place their child has been offered on March 1st or 2nd via post or email.
We work in partnership with our family of schools, to ensure that the transition process is clear and inclusive and that pupils and parents are fully supported through this important life change. If you have chosen NUSA as one of your child's preferred schools but do not receive a place at your first preference, please contact us for additional guidance and information; we have a dedicated transition team to discuss your options. We are happy to talk to parents about current choices you can take, all the way through to organising a one to one visit to our school for you and your child.
Our Transition Team will be visiting the upcoming Year 6 Parents Evening events, being held at our family of schools. We look forward to meeting you informally, to discuss any initial questions or queries you may have:
Brocklewood Primary School - Tuesday 8th and Wednesday 9th March from 3:15pm - 6pm
Djanogly Strelley Academy - Tuesday 22nd and Wednesday 23rd March from 3pm - 6pm
Firbeck Academy - Tuesday 8th and Wednesday 9th March from 4pm
Melbury Primary School - Tuesday 15th and Wednesday 16th March from 3:30pm
Portland Spencer Academy - Wednesday 16th March from 3:30pm - 6:30pm
If your child does not attend an above school or you are unable to make these events, please contact Stephen Schmidt on 0115 929 1492 or s.schmidt@nusa.org.uk , to arrange a private appointment at a time convenient to you.
February 2020
| M | T | W | T | F | WE |
| --- | --- | --- | --- | --- | --- |
| | | | | | 1 |
| 3 | 4 | 5 | 6 | 7 | 8 |
| 10 | 11 | 12 | 13 | 14 | 15 |
| 17 | 18 | 19 | 20 | 21 | 22 |
| 24 | 25 | 26 | 27 | 28 | 29 |