Careers Guidance
Careers Guidance

Introduction from Mrs Howard
In our rapidly changing world, careers guidance has never been more important to young people. The number of careers available to our students is continually evolving and it is vital that we provide them with as much impartial advice as possible so that they understand the variety of options open to them as they embark on their journey in to the working world. It is imperative to us at NUSA that all of our students leave our care with as much knowledge about careers as possible so that they can make fully informed choices as young adults.
Click here to access our Virtual Careers Library
Careers education at NUSA
Students will experience a range of activities in all lessons to give them advice and guidance about careers education. We believe that one of the ways in which students engage in learning is if they know the purpose behind the lesson, and how it will support them make informed decisions about what they want to do post NUSA. This page will give you an overview of intent for careers education.
Careers embedded within the curriculum
Teachers at NUSA have made every effort to ensure that each scheme of work, in every subject, has some aspect of learning that focuses on careers and advice within their subject area. As a result careers education is not a 'bolt on' added to the timetable, but more importantly, is embedded within the curriculum.
As can be seen below we will deliver careers advice and guidance through the following strategies:
GEN Z lessons. Termly focused weeks where every student in every subject will have a focused 'careers' lesson. This will result in an independent study task being set for them to complete after the lesson. During the week students may go on trips, have guest speakers in lessons and use Unifrog as part of their lesson
Curriculum- All students to be informed about the purpose of their learning and how the context of learning is linked to the world of work
Unifrog- this is an online platform that has a range of learning tasks, information and features related to careers education. Students in all year groups will have access to this platform and receive a login password and username
PSHE lessons. All students in all years will study a personal development programme. As part of this programme careers education features throughout. This is tailored for each year group. For example in year 11 students will take part in an 'interview day' where they will be expected to come into school dressed for an interview. As part of the day they will be interviewed by outside companies, given feedback on their performance and, furthermore given advice on CV writing.
Destination interviews. Every student will receive an achievement interview. A strong feature of this interview will be to ascertain what their career aspirations are. The sooner we know this, the sooner we can offer them the best advice on the options process at the end of year 9 so that we can steer them in the right direction to college, university or an apprenticeship scheme.
Work experience. Students will get the opportunity to take part in a work experience week in year 10. This has historically always been such a positive experience for NUSA students. We will work with Safety Measures to ensure all placements have been risk assessed before students start their placement. Additionally if students stay on to study at NUSA16 they will also have an additional work experience placement in year 12.
On line careers fairs. Within our network of schools we have many contacts with other post 16 colleges, universities and professions. Throughout the year 10 and NUSA 16 students will be given impartial advice on the many routes into further study or employment. One way we do this is to hold a 'Microsoft Teams' careers fair where careers advisors from colleges, universities and different professions impart and share knowledge about how to apply, what qualifications are required and what it is like to study or work in their particular college, university or profession.
DANCOP. DANCOP is a collaborative network between universities and colleges across Derbyshire and Nottinghamshire that exists to provide targeted higher education outreach programmes to secondary schools and colleges across the two counties. We have close links with DANCOP that offer a range of exciting activities to all year groups at NUSA. These range from Nottingham University offering girls a STEAM (Science Technology Engineering Art and Maths) day to Post 16 students given the opportunity to visit Russel Group universities.
To find out further information of the above, and other partners that support us, please download our Parent/Carer Careers GENZ information booklet at the top right of this webpage.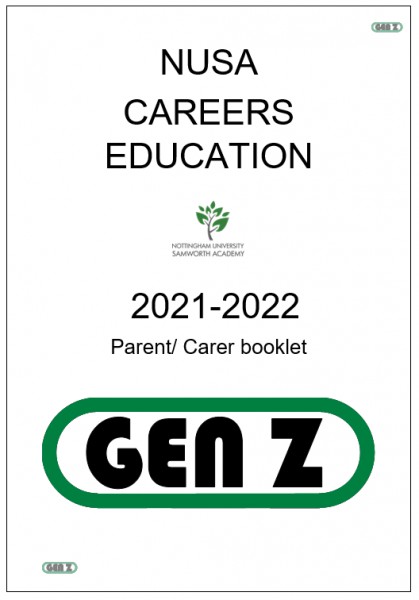 Local employer engagement
NUSA welcomes contact from employers, training providers and colleges. There are many ways in which you and your organisation can participate in collaborating with the school, to help shape the workforce of the future. At the same time, involvement in this activity can enhance and address the training needs of your employees in developing the key personal and work skills essential to create a thriving and successful enterprise operating in the private or public sectors. Young people need access to quality experiences in order to prepare them for the opportunities, experiences and challenges that the future world of work has to offer.
You, your employees and your company could be the key to unlocking the potential that is present in every young person currently making their way through the education system. Employees volunteer their time to give young people the best chance to succeed in an ever increasing competitive and global job market, and some of those young people could become part of your workforce in the future. Some companies have taken the strategic decision to use specific opportunities to help them to identify their future apprentices; as they have the chance to see at first-hand how individual young people cope with the discipline, opportunities and challenges of tackling real industry problems, working as individuals and as members of a team. The purpose of this section is to help you clarify the benefits that you as the employers/employees will seek to gain by working with NUSA.
We currently work very closely with Future For Business, who help and support us with reaching out to local employers in the community. We aim to deliver our first careers fair on the 27th April 2022. If you would like to contribute please don't hesitate to make contact with Julia Williams from Futures for Business or Richard Smith at NUSA. A link to their website can be seen at the top right of this page.
If you are interested in working with us , please contact Richard Smith, Careers Leader and Senior Leader
Email: rsmith@nusa.org.uk
Richard Smith
Senior Leader
Careers Leader
Date of publication: 3/2/21
Date of review: 3/2/22
July 2022
| M | T | W | T | F | WE |
| --- | --- | --- | --- | --- | --- |
| | | | | 1 | 2 |
| 4 | 5 | 6 | 7 | 8 | 9 |
| 11 | 12 | 13 | 14 | 15 | 16 |
| 18 | 19 | 20 | 21 | 22 | 23 |
| 25 | 26 | 27 | 28 | 29 | 30 |