The school is currently closed, except to the children of keyworkers.
Year 9
Year 9
During the event of having to work from home year work will be set in workbooks found in the links at the bottom of the page.
Students should open the workbooks, complete and return the work as outlined on the first page of the document.
As well as the booklets students will be set assignments on kerboodle.
Kerboodle can be accessed here: Kerboodle
Usernames are your first inital followed by your surname (e.g. fhuskisson), your password is initially set to this also, the institution code is odu8.
If there are 2 of you with the same initial and surname the second alphabetically will have a 1 after their username (e.g. fhuskisson1).
Please update your password when you log on to something memorable, there is a forgotten password link if you cannot remember it
You will need to click on the blue and orange AQA GCSE Sciences (9-1) to access the resources.
As well as the assignments set on kerboodle all students have access to the support resources and textbook for all AQA courses. Please see the image below for how to access your assignments and the textbook.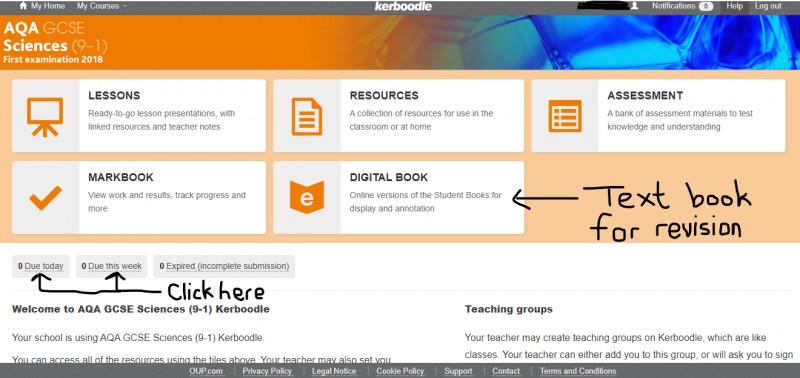 January 2021
| M | T | W | T | F | WE |
| --- | --- | --- | --- | --- | --- |
| | | | | 1 | 2 |
| 4 | 5 | 6 | 7 | 8 | 9 |
| 11 | 12 | 13 | 14 | 15 | 16 |
| 18 | 19 | 20 | 21 | 22 | 23 |
| 25 | 26 | 27 | 28 | 29 | 30 |