Curriculum
Curriculum
Introduction
NUSA is a Nottingham city comprehensive academy, with a pupil admission number of 150. That means there are up to 150 pupils in each of the Years 7 to 11. We split these 5 school years into a two year Key Stage 3, and a three year Key Stage 4. A smaller number of pupils then choose to stay at NUSA for their post-16 education, in Key Stage 5.
NUSA Values
Pupils at NUSA are expected to "work hard" and "be kind". This short statement goes to the heart of what we are trying to teach children through the curriculum, and through their wider school experiences.
Work Hard
At NUSA we endeavour to teach pupils the value of investing in their own future by working hard in every lesson, every day. Pupils are set personalised and challenging academic targets in every subject. These targets allow staff to recognise and celebrate the progress made by hard-working pupils, regardless of their comparative attainment. Targets are set using 'Fischer Family Trust Aspire' estimates that consider a pupil's prior attainment, gender and month of birth. These targets support our aspiration that all NUSA pupils will do at least as well as their peers nationally. Teachers are expected to help pupils work towards these targets by planning and teaching lessons that cater for all pupils, and by marking pupils' work regularly and providing feedback that helps them to improve.
Pupils receive a report every term with grades and scores for attainment, effort and homework. Attainment grades are coded either red, amber or green, depending on whether teachers judge a pupil to be "on track" to meet their target. Personalised targets allow all pupils to strive for a "green" report, regardless of their innate abilities and talents.
Working hard enables pupils to fulfill their potential, and hence fosters self-knowledge, self-esteem and self-confidence. It connects pupils with their own personal and academic development, and teaches them that everyone can achieve, if they are prepared to invest their time and effort. It also helps pupils to understand the need to respect the rights of every pupil to learn in a calm, focused and supportive atmosphere.
Be Kind
The importance of "being kind" to others is a fundamental human value that all children should be taught. At NUSA it starts in and around the classroom, with school rules that are based upon protecting pupils' rights to learn.
Pupils are encouraged to adhere to a clear set of behaviour expectations, linked to a framework of rewards and sanctions, helping pupils to develop their ability to distinguish between "right" and "wrong". This plays an important part in preparing our pupils for life as young adults in society.
On those occasions when pupils' behaviour transgresses NUSA expectations, an important part of the process in teaching pupils values is that they are taught to accept responsibility for their actions. The NUSA behaviour code highlights the link between negative behaviour and its consequences.
SMSC in the curriculum
All schools are charged with developing pupils' knowledge and understanding of spiritual, moral, social and cultural issues and themes. Subject leaders complete an SMSC audit of their taught curriculum, and identify opportunities for teachers to engage pupils in wider debate. Our staff are expected to promote a sense of social conscience, empathy and appreciation of the diverse nature of modern Britain.
Some elements of SMSC education are delivered through bespoke activities such as Personal Development lessons, theme days and assemblies, charity events, tutor set activities and the work of our student council. These activities provide pupils with opportunities to learn about their rights and responsibilities in society, based upon the ethos of "Work hard, be kind".
Our students are encouraged to regard people of all faiths, races and cultures with respect and tolerance. Students have a weekly assembly on these themes.
School Day
Our school day starts at 8.45 a.m, with a 15-minute Tutor Period, and finishes at 3.15 p.m. Pupils have a 15-minute break in the morning, and a 45-minute lunch break. In Years 7 to 11, pupils are taught seven 45-minute lessons a day. In some subjects, some lessons are 'doubles' that last 1-hour 30-minutes. This allows teachers to plan a range of different activities, including those of a practical nature, and allows greater flexibility and more effective use of our resources.
Key Stage 3 Curriculum
In Years 7 and 8 pupils follow a varied curriculum, that is prescribed for them and largely the same for all pupils: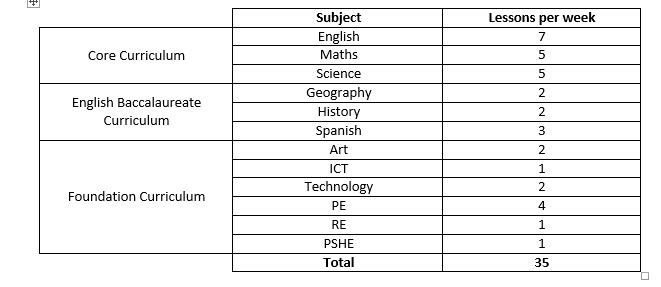 At the end of Year 8, pupils choose which E-Bacc and Foundation subjects they would like to continue in Key Stage 4.
Key Stage 4 Curriculum
Options
In the spring term of Year 8, pupils are offered an open choice of subjects to follow at Key Stage 4. We try to help pupils make informed choices through assemblies, tutor set activities, parents' evenings, and one-to-one interviews. Pupils are asked to choose four options from the following list:
Geography
History
Spanish
Separate Sciences
Art (Fine Art, Photography or Textiles)
Product Design
Catering
Sport
Child Development
Health and Social Care
Business Studies
ICT
Psychology
Media
Core Curriculum
All pupils continue to study English, Maths and Science through Key Stage 4. Pupils take GCSE examinations in English Language and English Literature, and Maths. Science is a little more complicated, with pupils taking either separate GCSEs in Biology, Chemistry and Physics; a double GCSE award; or a vocational BTEC qualification.
All pupils also continue to have 'core' PE lessons every week.

Key Stage 5
We currently have a relatively small post-16 provision, which focuses on providing vocational pathways into further education or employmet. NUSA Post-16 has proved to be particularly suitable for students who benefit from well-established relationships with staff, and who may require a mixture of level 2 and level 3 courses in Year 12. We currently have post 16 students studying the following Level 3 courses:
Health and Social Care (14 lessons per week)
Children's Care, Learning and Development (7 lessons per week)
Catering (8 lessons per week)
Sport (7 lessons per week)
Art (7 lessons per week)
Our post-16 students have a weekly personal development lesson, mentoring with their tutor, and extra support if they are still working towards a C grade in either English or Maths. They also have opportunities to work with younger pupils as literacy mentors, gain qualifications in first aid and British Sign Language, and to take on paid responsibilities around the academy. We endeavour to provide all of our post-16 students with work experience linked to their courses.
August 2017
| M | T | W | T | F | WE |
| --- | --- | --- | --- | --- | --- |
| | 1 | 2 | 3 | 4 | 5 |
| 7 | 8 | 9 | 10 | 11 | 12 |
| 14 | 15 | 16 | 17 | 18 | 19 |
| 21 | 22 | 23 | 24 | 25 | 26 |
| 28 | 29 | 30 | 31 | | |